Surprise. Delight. Uplift.
Our passion is, simply put, to uplift our audiences through our films; to surprise and delight you, and to unveil the deeper layers of reality that underlie our daily existence and allow the spirit to soar.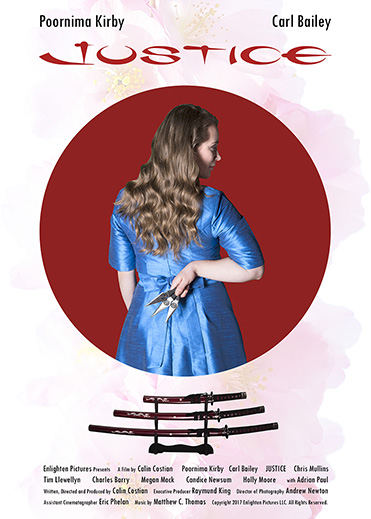 Current Project
Our latest project is "Justice" (2017), a multi-layered tale of human redemption, starring Poornima Kirby (Walker), Carl Bailey (The Pineville Heist) and Adrian Paul (Highlander).
A successful young woman looking for a new relationship at a high-society evening party discovers an unexpected opportunity to exact revenge on the man she believes fatally stabbed her mother many years ago. Trained in knife combat and using her well-honed socialite skills, she lures him to her home only to discover that the man she's planning to kill has a few surprises of his own which become a dramatic game changer.
Watch trailer
IMDB Page
Instagram Page
Philosophy
Our philosophy, which we try to portray in our films, is that in life hardly anything is what it appears to be. Beneath the surface of illusion there are often multiple layers of depth which, when peeled off, ultimately reveal reality to us. It is this feeling that we try to materialize through our characters, twists-and-turns stories, emotion-laden scenes, and above all actor performances that we love to work with and bring to life on screen.